More evidence suggests Switch OLED's dock can support 4K
Switch could even theoretically be updated to output a higher resolution, it's claimed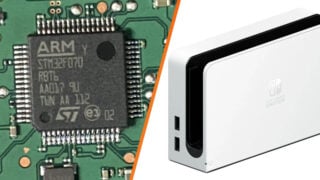 Further evidence has suggested that the Nintendo Switch OLED model's updated dock can support 4K/60fps, even though the Switch hardware currently doesn't.
Last week it was reported that the updated Switch hardware comes with a new HDMI 2.0 cable (compared to the original's 1.4 lead), which means it could theoretically transfer a 4K signal at 60 frames per second with HDR applied.
Now content creator KawlunDram has gone a step further and opened up the Switch OLED dock, to discover that it seemingly has a new Realtek chip inside, one which advertises itself as a "4K UHD multimedia SoC".
This is said to be the same chip that was referenced in a Switch firmware update earlier this year, along with the hardware codename 'Aula'.
The discovery would suggest that the Switch OLED dock definitely has new hardware inside to support HDMI 2.0 and upward. "It should also be noted that the Tegra X1 featured in the Switch does in fact support 4K60fps output over HDMI2.0," Kawlun notes.
Curiously, Nintendo has also recently added an "update dock firmware" function specifically for the OLED dock. This could potentially indicate that Nintendo could decide to add a 4K option in future, similarly to how it recently added Bluetooth audio support via an update.
However, there's reportedly nothing in the Switch firmware currently to suggest that 4K or HDR is coming and it's almost certain that such functionality would be impossible for native game support, given the aging hardware.
The dock itself doesn't have the ability to upscale 1080p to 4K either, and so the 4K output would need to be handled by the Switch itself, either with increased power or a DLSS-style upscaling feature, neither of which the OLED has.
It's possible that the dock may have been 'future-proofed' so a potential future Switch model that does support 4K could work with it.
Last week Nintendo swiftly denied claims that at least 11 studios have 4K Switch development kits.
Bloomberg claimed that at least 11 companies, including Zynga, have software toolkits provided by Nintendo that feature support for 4K graphics.
The article claimed that by the time Nintendo had officially revealed the Switch OLED in July, it had already handed out 4K development kits to third-party studios and asked them to start making 4K-supported games.
It also claimed that Nintendo still plans to release an enhanced 4K-supported 'Switch Pro', planned for late 2022 at the earliest.
Related Products
Other Products
Some external links on this page are affiliate links, if you click on our affiliate links and make a purchase we might receive a commission.