Monster Hunter World: Iceborne ships 5 million copies
Capcom says franchise has now exceeded 62 million lifetime sales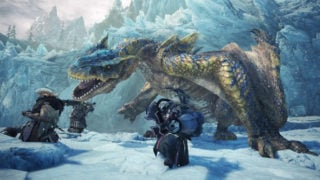 Monster Hunter World: Iceborne has shipped over five million units worldwide, according to publisher Capcom.
The expansion reached the milestone in about six months, having released for PS4 and Xbox One on September 6, 2019, and for PC on January 9, 2020.
The latest shipment figure includes copies of Monster Hunter World: Iceborne Master Edition, which bundles the Monster Hunter: World base game (which is required to play the expansion) with Iceborne.
Monster Hunter: World recently became the first game in Capcom's history to exceed 15 million units shipped, and the publisher said on Friday that cumulative sales of the series exceeded 62 million units as of March 13, 2020.
VGC's 5/5 Monster Hunter World Iceborne review labelled the game "an essential upgrade for hunters craving new monsters, challenges, and gear".
Capcom intends to synchronise Iceborne content releases across consoles and PC beginning in April.
The publisher also said on Friday that mobile game Monster Hunter Riders has been downloaded over three million times since its February 2020 launch for iOS and Android devices.
"Capcom plans to carry out a number of initiatives to further cement the series' position as a global brand, such as with a Hollywood film adaptation of Monster Hunter, a first for the series, scheduled for a September 2020 release," it added.
Ryozo Tsujimoto, head of Capcom's consumer games development division 2 and producer of the Monster Hunter series since 2007, recently said he believes the Japanese company can hold its own amid increased competition in the games business from leading tech firms Google, Amazon, Facebook and Apple.