Monster Hunter World free trial hits PS4
Sample Capcom's hit at no cost until May 20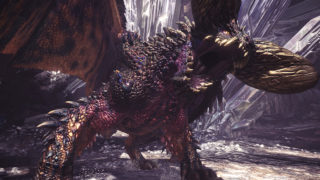 Capcom has announced that PS4 players can partake in a free Monster Hunter World trial.
Available until May 20, the trial lets users play up until the completion of the Tobi-Kadachi assignment quest at Hunter Rank 4.
"You'll get to explore two ample environments, each with a variety of monsters to hunt, vistas to take in, endemic life to discover, lots of gear to craft, 14 different weapon types to try out and Palico gear," Capcom says.
Progress made in the free trial will carry over to the full game, should users choose to purchase it. Monster Hunter World is currently on sale at $19.99/£15.99 on the PlayStation Store.
Capcom said this week that Monster Hunter World shipments have reached 12 million units across all versions of the game, making it the publisher's single best-selling title in history.
It also announced Monster Hunter World Iceborne, a "massive expansion DLC" pack for the hit action role-playing game.
The $40 add-on requires the base Monster Hunter World game to play and will release on September 6, 2019 for PS4 and Xbox One. A PC release will follow in winter 2019.
Iceborne features a new story that begins after the events of Monster Hunter World, and an amount of content which Capcom says rivals the main game, including new monsters, environments, moves and equipment.