Monster Hunter Rise: Sunbreak's first update adds new monsters and end-game challenges
A new quest system will also be added tomorrow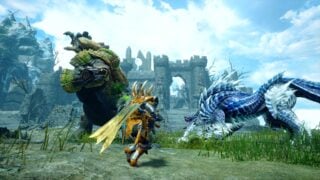 Capcom has revealed the details of the first update coming to Monster Hunter Rise: Sunbreak, which will bring with it new monsters and challenges.
Announced by producer Ryozo Tsujimoto and director Yoshitake Suzuki, the free update will arrive on Wednesday, August 10.
Fan-favourite monsters will return as part of the update, as well as an expansion to the Anomaly Quest system for increased challenges and rewards.
In addition to all the content arriving on Wednesday for hunters who have reached Master Rank 10, Monster Hunter Rise: Sunbreak players will also receive new Event Quests every week following the update.
"Last seen in 2013's Monster Hunter 3 Ultimate, Lucent Nargacuga refracts moonlight off its bright white fur to become nearly invisible, save for its piercing red eyes," reads a description for the classic monster added to the game this week.
"Its relentless attacks and incredible swiftness make it a punishing target for even the most experienced hunters. This agile predator makes its roost in the newly redesigned Forlorn Arena, defined by crumbling stone buildings and colonnades. As if one unseen foe wasn't enough to handle, hunters must also prepare for Seething Bazelgeuse to crash the party with its incredibly volatile explosive scales."
The new Five-Star rating for anomaly quests will also be included in the update, which includes new afflicted monsters such as Lunagaron and Magma Almudron who can be unlocked by progressing through the new Anomaly Investigation Quests.
A new quest system, called anomaly investigations, will also be added during the update. These quests offer randomized quest conditions, such as target monsters, locales, and number of hunters at gradually increasing difficulty ratings.
The next Monster Hunter Rise: Sunbreak update is expected in September.
Related Products
Other Products
Some external links on this page are affiliate links, if you click on our affiliate links and make a purchase we might receive a commission.