Monster Hunter producer has 'no idea whatsoever' if Nintendo is launching a Switch Pro
"We're trying to make the game work as best as it can on whichever Switch you have"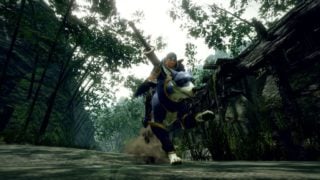 Monster Hunter series producer Ryozo Tsujimoto says he has "no idea" if Nintendo's planning to launch a new Switch model.
Multiple outlets have reported that the platform holder is preparing to launch updated Switch hardware in early 2021, while the recently announced Monster Hunter Rise will be released for Nintendo's console next March.
In an interview with Eurogamer, Tsujimoto was asked whether Capcom's Monster Hunter team would be well placed to take advantage of new Switch hardware should it be part of Nintendo's plans.
"Well, obviously we have no idea whatsoever what the plans would be in that direction," he responded, "but even at the moment you actually have two different Switch hardwares you're targeting – you've got the original Switch which has the docking mode, so that's something we've already borne in mind to make sure that the game isn't making any undue assumptions on the hardware owned by the player.
"As to those kind of plans on Nintendo's side, we can't speak to those at all," Tsujimoto added. "We're trying to make the game work as best as it can on whichever Switch you have."
Taipei-based newspaper Economic Daily News claimed in August that a new Nintendo Switch model will be released in the first quarter of 2021, featuring upgraded "interactivity" and improved display quality.-itll-be-the-best-of-both-worlds
Shortly after, Bloomberg claimed new Switch hardware will launch in early 2021 and that it might feature upgraded computing power and support for 4K resolution graphics.
It was recently confirmed that the upcoming Monster Hunter movie starring Milla Jovovich and Ron Perlman will be released in cinemas this December.