Monster Hunter is being used to promote road safety in Japan
Osaka's Traffic Safety Awareness Campaign will include designs from Monster Hunter Rise: Sunbreak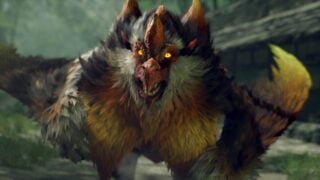 Monster Hunter is going to be used to promote road traffic safety in Japan.
The country's Osaka Prefecture has teamed up with Capcom as part of its upcoming Summer Traffic Accident Prevention Programme, which takes place throughout July.
The campaign will see imagery from Monster Hunter Rise's upcoming Sunbreak expansion being used to help catch the eye of Osaka residents so the message can be delivered.
The hope is that the posters and subsequent campaign will "normalise the strict observance of traffic rules and the practice of proper driving etiquette".
The main poster, which features artwork of three monsters from Sunbreak, refers to "motorcycle accident prevention", "child traffic accident prevention", "promotion of safe bicycle use" and "eradication of drunk driving".
A total of 100,000 posters and flyers will be distributed at municipal offices, police boxes and driving schools across Osaka.
This is the latest in a series of collaborations by Capcom designed to support regional revitalisation efforts throughout Japan, which it has been doing since 2009.
In 2019, it also teamed up with the Osaka Prefectural Police to help in a recruitment drive for cyber-crime investigators using Street Fighter characters, while Mega Man was used for another cyber-crime prevention campaign in 2018.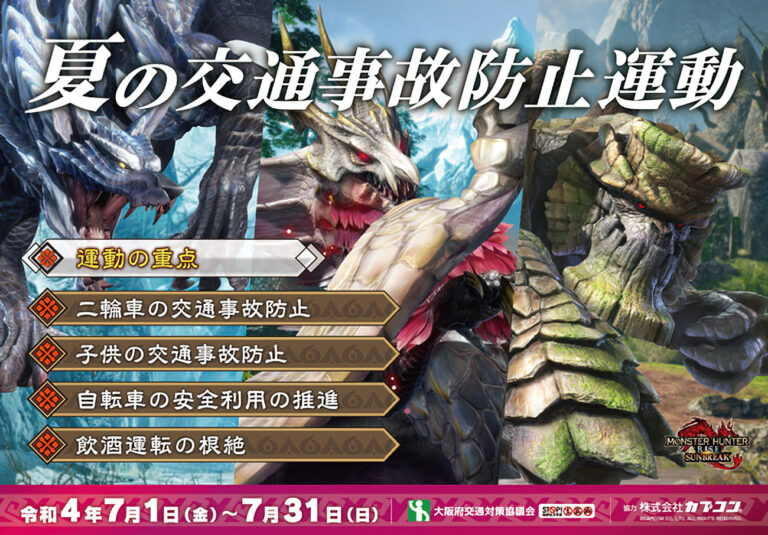 Capcom says in the past it's also collaborated with prefectural police in Kansai on other prevention campaigns, and also worked to raise awareness of gubernatorial elections.
Monster Hunter Rise: Sunbreak is released on June 30. In order to play the expansion, users will be required to own the base Monster Hunter Rise game, which was released for Switch in March 2021 and for PC in January 2022.
In VGC's recent Monster Hunter Rise: Sunbreak hands-on preview, we said: "Any excuse to revisit this great game is a welcome one, and the army of new beasts on show, and some exciting returning favourites that we can't mention, make it very unlikely to disappoint fans, although it will kill them a lot."