Monster Hunter Iceborne patch will address PC save and CPU problems
"Our sincere apologies for some of the issues you have been experiencing"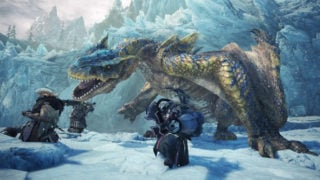 Capcom is readying a Monster Hunter World: Iceborne patch designed to address PC save data and CPU problems users have been experiencing since the game's release last week.
"Hunters, our sincere apologies for some of the issues you have been experiencing," the Monster Hunter account tweeted this week.
"We're planning to deploy a patch in the next few days to address issues relating to the CPU utilization and Save Data compatibility (ver. 10.12.01)," it added.
Following Iceborne's PC release on January 9, a number of players took to Steam and Reddit to say their Monster Hunter World save data had been erased.
Capcom later explained: "An issue has been discovered where the save data would not convert to the new file format if the save data and the game haven't been updated after October 30, 2018 (UTC 23:00), the day when Kulve Taroth had been added to the game via Title Update."
After users complained of performance problems, Capcom also acknowledged "an issue that resulted in an unusually high level of CPU utilization during active gameplay."
Capcom said on Wednesday that Monster Hunter: World has become the first game in its history to exceed 15 million units shipped.
Premium expansion Iceborne, which requires the base game to play and first launched on consoles in 2019, has now shipped four million units worldwide with recent sales driven by its PC release.