Monkey Island's creator says the Sea of Thieves DLC happened 'behind his back'
Ron Gilbert had no idea the crossover was coming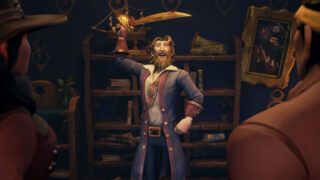 The creator of the Monkey Island series has claimed the upcoming Sea of Thieves crossover DLC happened "behind his back".
During the Xbox Games Showcase it was revealed that Sea of Thieves will be getting a free DLC expansion based on The Secret of Monkey Island.
The new content, which will be titled The Legend of Monkey Island, will be released in three monthly chapters starting on July 20.
However, as spotted by Time Extension, Monkey Island creator Ron Gilbert claimed to have no knowledge of the DLC when asked about it by followers on Mastodon.
Update
Ron Gilbert's stance on the issue has been clarified by a PR rep for his studio Terrible Toybox.
"There was some ambiguity in Ron's Mastadon posts so we want to offer a clarification," the rep has explained.
"Disney did give him a heads-up on the project as a courtesy, but the game was well into development at that point and he wasn't given the opportunity to be meaningfully involved.
"He cares deeply about Monkey Island and wishes the team at Rare well with the project."
After one user said they were intrigued by the DLC and asked if Gilbert had much input on it, he replied: "Nope. Wasn't even told about it. Happened behind my back."
After another follower asked if he'd been working with the Sea of Thieves team to bring Monkey Island to the game, Gilbert replied: "Nope. It was all done without my knowledge or input."
Gilbert was the original creator of Monkey Island and directed and co-wrote the first two games in the series, from which the Sea of Thieves DLC appears to take most of its content.
Gilbert returned to the series in 2022 with Return to Monkey Island, but while the game was ultimately critically acclaimed, Gilbert shut down the game's official website and stopped talking about it on social media before its release due to "personal attacks" from some fans over its new art style.
According to Xbox's description of the upcoming free Monkey Island expansion for Sea of Thieves: "Your adventures will have you meet Guybrush Threepwood, his beloved Elaine, the dreaded ghost captain LeChuck, Murray the Demonic Talking Skull and more iconic characters.
"You'll get to visit freely explorable versions of both Mêlée Island and Monkey Island, solving puzzles in a point-and-click style adapted for Sea of Thieves first-person view – and it'll all take place in the Sea of the Damned, so you'll have no interruptions from other players as you relive the iconic series in a brand-new way."