Modern Warfare's Special Ops Survival mode is no longer PS4 exclusive
Xbox One and PC players can get in on the action after almost a year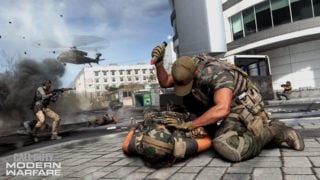 Call of Duty: Modern Warfare's Special Ops Survival mode is now available to Xbox One and PC players.
The co-op mode launched as a PS4 exclusive feature when the game released in October 2019.
According to the official blurb, "Special Ops Survival pits you and up to three of your friends against enemy forces in intense cooperative combat on one of three Multiplayer maps.
"In Special Ops Survival Mode, you will fight off waves of increasingly difficult and determined combatants in a variety of experiences."
In response to fan frustration over the announcement of Survival mode's PS4 timed exclusivity, Infinity Ward narrative director Taylor Kurosaki claimed last year that it represents only a "sliver" of the game's wider Spec Ops offering.
"Survival is 1% of the game," he said. "The other 99% is simultaneous day and date across all platforms. I'd rather have everyone playing 99% of the content at the same time than 100% of the content some time later."
The recent Call of Duty: Black Ops Cold War alpha was available exclusively on PS4, and the game's upcoming beta will also be available first on Sony's console.
Modern Warfare and Warzone Season 6 released on Tuesday, introducing new multiplayer maps and modes, among other features.
Infinity Ward said this week over 200,000 Modern Warfare and Warzone accounts have been banned for cheating since the games released.