Modern Warfare update includes fixes for crashes on all platforms
Latest Call of Duty patch also includes various tweaks and a playlist update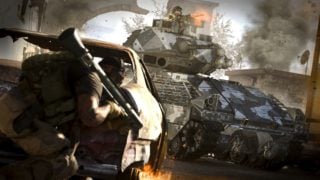 Infinity Ward has released a new Call of Duty: Modern Warfare update designed to reduce crashes across all platforms.
Modern Warfare version 1.06 also removes battle chatter from one-life modes, introduces the ability to temporarily disable claymores with stun grenades, and tweaks footstep audio.
The latest Call of Duty patch, which was detailed by Infinity Ward senior communications manager Ashton Williams on Reddit, includes a playlist update too.
Modern Warfare title update 11/2/19
More fixes to prevent crashes and improve stability across all platforms
Battlechatter has been removed from tactical, one-life modes
APCs and Tanks in Ground War no longer award points towards a nuke
Fix for charms affecting weapon performance when firing from the hip
Claymores: Stun grenades can now force claymores into a disabled state for 3 seconds
Footsteps: Adjustments to tame the 3rd person footsteps. They will now filter out based on occlusion more.
Fix to an issue where Tac Inserts could cause players to spawn out of bounds
Fix for the gold camo not unlocking on the .357
Playlist Update

NVG (TDM only)
Ground War
Gunfight
Kill Confirmed
FFA
A previous Call of Duty update also aimed to prevent crashes on all platforms, although some users reported encountering more frequent crashes after installing the patch than they had done before its release.
Modern Warfare launched on October 25 and publisher Activision called it the fastest-selling Call of Duty game this console generation after three days of availability.
It also recorded the "biggest Call of Duty PC launch ever" and set a number of digital sales records, generating $600 million worldwide in 72 hours.
VGC called it the freshest CoD in years in our 4/5 star Call of Duty: Modern Warfare review. See what other critics think of the game in our Call of Duty: Modern Warfare review round-up.