Modern Warfare update aims to 'prevent crashes on all platforms'
But users still reporting issues following latest Call of Duty patch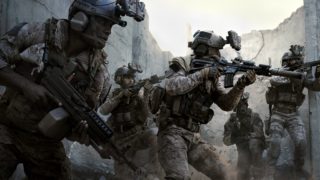 Infinity Ward has released a new Call of Duty: Modern Warfare patch designed to reduce crashes across all platforms.
Over the weekend the studio said it has identified an issue resulting in Call of Duty: Modern Warfare crashing Xbox One X consoles, although Reddit users have also reported experiencing crashes on other Xbox One models and different platforms too.
Modern Warfare's latest patch was released on Monday and Infinity Ward senior communications manager Ashton Williams has since provided the following update notes:
Modern Warfare title update 10/28/19
We've done work on the backend to help with stability and prevent crashes across all platforms. If you experience a crash, please let us know
Fix for a Special Ops Achievement that was not unlocking after completing all missions
3rd person footsteps are now silent while the Dead Silence Field Upgrade is active
Hardpoint: Adjustments to the hill rotations and locations on Arklov Peak, Azhir Cave, Hackney Yard, Rammaza, and St. Petrograd

However, some PC and Xbox One users are reporting encountering more frequent crashes after installing the latest update than they had before its release.
Stuttering cutscenes is another widely reported issue among PC players.
Released on Friday, Modern Warfare features a unified narrative experience and progression across the entire game including campaign, multiplayer and Special Ops missions, and for the first time in the series PC and console players can play together online via cross-platform play.
VGC called it the freshest CoD in years in our 4/5 star Call of Duty: Modern Warfare review. See what other critics think of the game in our Call of Duty: Modern Warfare review round-up.