Modern Warfare multiplayer live stream set for 10am PT / 6pm BST
Activision set to unveil latest Call of Duty game's online features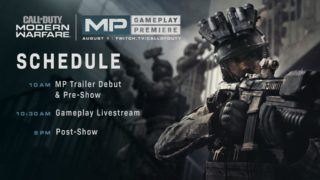 Activision will fully unveil Call of Duty: Modern Warfare's multiplayer mode at 10am PT / 6pm BST.
The publisher is set to broadcast an event on its Twitch channel Thursday featuring popular streamers Dr. Disrespect, Shroud, Syndicate and more.
The game's developer Infinity Ward says to expect "classic multiplayer" and a collection of co-operative operations in Modern Warfare. There's no mention of a potential battle royale mode yet.
The first footage of Modern Warfare's new Gunfight mode was recently released, showcasing 2v2 matches across a series of small, confined maps that are custom-built for the mode.
It was also confirmed that Killstreaks will be returning to the game, including the ability to summon a tank in multiplayer.
Set for release in October, Modern Warfare will feature a unified narrative experience and progression across the whole game including campaign, multiplayer and Spec-Ops co-op missions.
For the first time in the series PC and console players will be able to play together online via cross-platform play, while the game will ditch the franchise's traditional season pass "in order to deliver a greater mix of more free maps, content and community events post-launch".