Modern Warfare glitch 'shows battle royale map'
Unconfirmed mode said to include a fresh twist on player respawns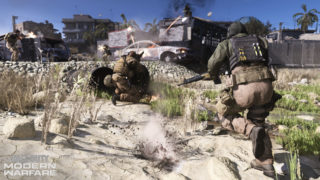 A Call of Duty: Modern Warfare glitch may have provided the first in-game look at the title's anticipated but still to be confirmed battle royale mode.
Details of a Modern Warfare battle royale mode recently appeared online via Call of Duty dataminer Sensecallo, suggesting it will be a free addition featuring a large map that supports 200 players.
The video below, which was posted on the Modern Warfare subreddit, reportedly shows a glitch which results in the user getting a bird's eye view of a landscape which closely resembles the previously datamined map.
Of note is the sports stadium the user hovers above, and the Gulag location near the coastline around the 15-second mark of the video.
According to previously leaked data, players will be able to obtain Respawn Tokens for downed teammates, which will place them in the Gulag with other defeated players. Imprisoned players will then queue for a chance to respawn into battle by winning a 1v1 battle.
At some point during the match, the Gulag will close and no longer be usable, thus preventing respawns, it's claimed.
Modern Warfare's battle royale mode will also reportedly include perks, player missions and support for solo, duo and quad team modes.
In a nod to Apex Legends, players will be able mark vehicles, locations, items, enemies and dangerous locations for teammates to see, according to the leak.
Activision launched Modern Warfare Season 1 and the game's first Battle Pass in early December.