Modern Warfare and Warzone Season 3 release date confirmed
New Call of Duty content debuting on Wednesday, April 8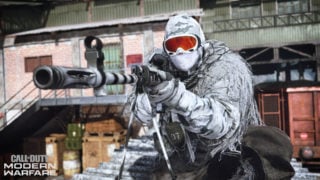 Activision has announced a Call of Duty: Modern Warfare / Warzone Season 3 release date of April 8.
The launch date was confirmed in a teaser image tweeted by the publisher on Friday.
Dataminer Senescallo recently uncovered a number of files related to Modern Warfare's upcoming third season, which is expected to run for about eight weeks.
Update, April 7: Activision has released a Call of Duty: Modern Warfare and Warzone Season 3 trailer revealing new maps, bigger squads and more.
Original story continues: According to the info, Season 3 could contain new playlists for free-to-play battle royale game Warzone, including Duos and Quads.
The datamine also points to the addition of two new weapons (SKS and Renetti), two fresh Operators (Alex and Ronin), and a pair of Modern Warfare multiplayer map remakes (Backlot from MW2 and Village from MW3).
Modern Warfare and Warzone progression is unified across the games, which share the same Battle Pass and item shop.
Activision is currently running a free Call of Duty: Modern Warfare multiplayer weekend. It includes access to a limited portion of the game's online component, which is accessible through Warzone.
From the Warzone lobby, players can join the 'Stocked Up, Locked Down' playlist, which features two of Modern Warfare's original maps, Atlas Superstore (10v10) and Shoot House (6v6), and game modes including Team Deathmatch, Domination and Hardpoint.
Modern Warfare 2 Campaign Remastered was released on Tuesday as a timed PS4 exclusive.