Modder discovers Zelda: Breath of the Wild 'uses advanced Miis' for its NPCs
Custom avatars can seemingly be converted into Zelda characters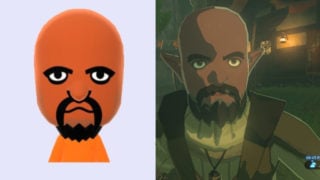 The Legend of Zelda: Breath of the Wild's NPC were created using an evolution of Nintendo's Mii Maker, it's been claimed.
Modder 'Alice', who is a self-proclaimed "Mii expert", was liked more than 20,000 times on Monday after sharing an image showing how players' custom Mii characters can be placed inside the Zelda game as converted NPCs.
Miis are the custom avatars used on several Nintendo consoles including Wii, 3DS, Wii U and Nintendo Switch.
According to Alice, Zelda uses an evolution of the characters, referred to as "UMiis" in its game files. UMiis have almost all the same parameters as Wii U/3DS Miis, the modder claimed, with a few minor differences, such as some facial features no longer being supported.
"BotW does not support every hairstyle Miis do," Alice explained on Reddit.
"So, if you tried to load a hairstyle the game doesn't support, it instead calls a separate file, that essentially converts the unsupported hairstyle into a hair type that is supported and looks the most similar to the unsupported one, which is what happened with my personal Mii, Alice."
Special characters such as Link and Zelda are custom modelled and therefore, aren't UMiis, the modder said.
"There's still a lot to uncover about UMiis," Alice wrote. "Not every value is known, there are still many interactions that we're unsure of, etc."
The modder initially said she was open to the idea of users submitting their own Miis to have her convert them into Breath of the Wild, but eventually decided to mute the thread due to the number of replies.
Zelda series producer Eiji Aonuma recently said fans would need to "wait a bit longer" for Nintendo to provide new updates on The Legend of Zelda: Breath of the Wild 2.
Speaking in an introductory video for Hyrule Warriors: Age of Calamity, Aonuma said Nintendo is committed to improving on the "vast world" featured in the original Breath of the Wild.
"We mentioned in the June 2019 Nintendo Direct presentation that we had started development on the sequel to The Legend of Zelda: Breath of the Wild," he said.
"Many people around the world are still playing Breath of the Wild, so I'd like to thank you all from the bottom of my heart. Everyone, thank you so much.
"Regarding the sequel, in order to make the vast world you enjoyed exploring in the original game even more impressive, the team is working hard on its development, so you'll have to wait a bit longer before we can provide more updates."
Related Products
Other Products
Some external links on this page are affiliate links, if you click on our affiliate links and make a purchase we might receive a commission.