Minecraft tops May PlayStation Store sales
Beat Saber loses VR chart lead, Dauntless is No.1 free-to-play game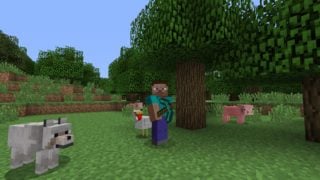 Minecraft was the best-selling PS4 game on the PlayStation Store in May.
According to Sony, the nearly five-year-old title topped both the US and European PS Store charts last month, holding off competition from fellow 2014 release Grand Theft Auto V in both cases.
On the VR front, March and April chart-topper Beat Saber was dethroned by new releases. Five Nights at Freddy's VR: Help Wanted took the top spot in the US, ahead of fellow new entry Blood and Truth. In Europe, Blood and Truth was No.1 and Five Nights at Freddy's was No.3.
The US PlayStation Blog also publishes a monthly free-to-play chart, which was topped by new release Dauntless, ahead of Fortnite and Apex Legends. The Monster Hunter inspired title offers cross-platform play and progression between PS4, Xbox One and PC, and attracted three million new players across all platforms within a week of leaving open beta on PC.
May US PlayStation Store PS4 chart
Minecraft: PlayStation 4 Edition
Grand Theft Auto V
NBA 2K19
Tom Clancy's Ghost Recon Wildlands
Tom Clancy's Rainbow Six Siege
May EU PlayStation Store PS4 chart
Minecraft: PlayStation 4 Edition
Grand Theft Auto V
Days Gone
World War Z
F1 2018
FIFA 19
Tom Clancy's Ghost Recon Wildlands
Battlefield 4
Red Dead Redemption 2