Minecraft dev cancels high-end graphics pack announced at E3 2017
Super Duper DLC is no longer in development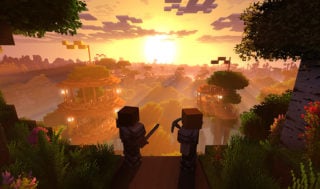 Mojang has ceased development of Minecraft's Super Duper Graphics Pack because it's proved "too technically demanding."
The optional visual update, announced during the Xbox E3 2017 media briefing, was set to significantly overhaul Minecraft's visuals with volumetric lighting, revamped shaders, new textures and new models.
The update was originally due to release in 2017 targeting high-end PCs and Xbox One X, but on Monday Mojang confirmed it is no longer in development.
"Super Duper was an ambitious initiative that brought a new look to Minecraft but, unfortunately, the pack proved too technically demanding to implement as planned," the developer said in a statement.
"We realise this is disappointing to some of you – there was a lot of enthusiasm for Super Duper from inside and outside the studio – but unfortunately, we aren't happy with how the pack performed across devices.
"For this reason, we're stopping development on the pack, and looking into other ways for you to experience Minecraft with a new look.
"Minecraft is available on a wide range of platforms, and we're constantly trying to make the most of the technical architecture of each one. We'll be able to share more on that subject very soon."
Rather than developing a full-blown sequel, Microsoft has said its primary concern is keeping the existing Minecraft community happy with updates and new versions of the game, such as the episodic Minecraft: Story Mode and dungeon crawler Minecraft Dungeons, which is set for release in spring 2020.