Minecraft AR game revealed in Microsoft video
More details to be announced on May 17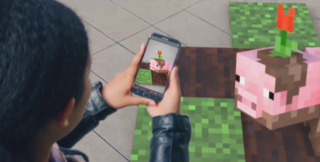 Microsoft has released a video teaser for a new Minecraft augmented reality game.
The video premiered during the company's Build conference in Seattle on Monday, and features footage of the seminal building game running in AR on a mobile phone.
Read our E3 2019 dates schedule for every conference and live stream date.
More details will be released on May 17, which is Minecraft's 10th anniversary.
Microsoft showed an augmented reality version of Minecraft during its E3 2015 Xbox showcase, although that version amounted to little more than a tech demo.
A full mobile AR game would bring Minecraft closer to the realm of mobile hit Pokémon Go, which has been downloaded more than 500 million times, according to its creator.
Rather than developing a full-blown sequel, Microsoft has stated that its primary concern is keeping the existing Minecraft community happy with updates and new versions of the game, such as the episodic Minecraft: Story Mode, and dungeon crawler Minecraft Dungeons.
Minecraft is one of the most popular games in the world, with a Business Insider report last year calling it the second highest-selling game of all time behind Tetris.
Microsoft says the game has sold over 154 million copies across all platforms and has 91 million monthly active users.
Additionally, a Chinese free-to-play version of Minecraft available on PC and mobiles had 150 million registered users as of October 2018.
Microsoft recently made Minecraft available to play through its Xbox Game Pass subscription service.