Microsoft will release a Cyberpunk 2077 Xbox One X console in June
Special console to arrive ahead of the game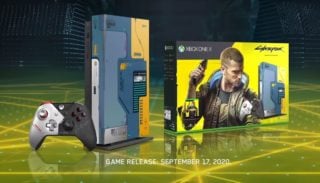 Microsoft will release a Cyberpunk 2077-themed Xbox One X console in June.
The console features custom panels, a custom controller, LED lights and glow-in-the-dark artwork, according to a video published on the official Xbox YouTube channel.
A retail listing revealed plans for a special edition Cyberpunk 2077 Xbox One controller earlier this week. The controller features the branding of the game's fictional Arasaka Corp., a Japanese firm "known for providing corporate security, banking, and legal services."
CD Projekt is on track to hit Cyberpunk 2077's September 2020 release date, the company said in a management board report released this month.
The company announced in January that the Cyberpunk 2077 release date had been delayed from this April to September 17, 2020.
In an update this month, president Adam Kiciński said that despite a recent switch to remote working, there had been no major disruptions and he was confident of hitting Cyberpunk's September release.
"Since mid-March we have been working from home, while ensuring continuity of all our of operations," Kiciński said.
"Our goals haven't changed; first and foremost, we intend to release Cyberpunk 2077 in September. We feel motivated and have the necessary tools at our disposal to meet this goal".
Kiciński reiterated in a press release: "Our plans haven't changed – we're steaming towards the September release of Cyberpunk."