Microsoft says raytracing was included in Minecraft update by mistake
The mistake "doesn't signal near future plans to bring raytracing support to consoles"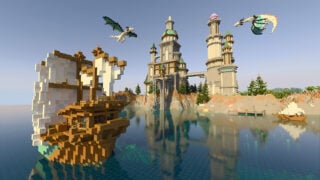 Following reports that raytracing options had been added to a Preview build of Minecraft on Xbox, Microsoft has confirmed that the options were included in the game "inadvertently".
"The previous Minecraft Preview build available to Xbox Insiders inadvertently included prototype code for raytracing support on Xbox consoles," read a tweet from the @Minecraft account.
It went on to say "This early prototype code has been removed from Preview and doesn't signal near future plans to bring raytracing support to consoles."
The Verge's senior editor Tom Warren tweeted earlier this week that the latest Preview version of Minecraft (which is only available to Xbox Insider members) had added raytracing options. These will now likely be removed.
Xbox owners have been waiting some time for ray tracing in Minecraft. Microsoft originally announced in 2019 that it would be bringing ray tracing support to the game, but at the time this was only related to the PC version.
Xbox also posted a blog article two years ago which gave an in-depth look at the tech inside the then-unreleased Xbox Series X. This included a description of ray tracing, with screenshots from Minecraft used as an example to show what the Xbox Series X could do with ray tracing turned on.
There has been no official announcement on when ray tracing will come to Minecraft on Xbox Series X/S, be that the preview or retail builds.