Microsoft recommends some players reinstall Flight Simulator with its latest patch
New update targets installation issues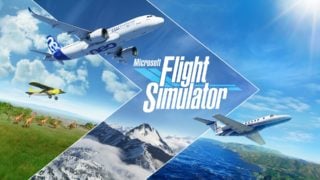 The Microsoft Flight Simulator team has recommended that owners reinstall the game before downloading the latest patch, if they've previously experienced installation issues.
Flight Simulator's version 1.7.14.0 update is available now and itself fixes a number of issues related to stability and installation.
To install the patch, players should close Microsoft Flight Simulator and relaunch, the team said. "However, if you have experienced installation issues, we strongly advise you to do a clean install of Microsoft Flight Simulator".
Instructions on how to perform a clean install of Microsoft Flight Simulator are available over on the game's website.
Last month Microsoft created a web page listing the most common Flight Simulator issues and workarounds for the problems.
The PC title released on August 18 to near universal acclaim, but users have also reported several issues, including loading problems and slow download times.
"Ultimately, Flight Simulator is the best game of its type to date," VGC's 5/5 Microsoft Flight Simulator review concluded.
"For Asobo to have recreated the entire world in such a stunning way is an incredible accomplishment, and for it to have also produced a game that's either the most detailed flight sim ever or the perfect entry point for complete novices who just want to play with a controller is similarly impressive."
Microsoft Flight Simulator is also set to be released for Xbox One at a later date.
---
Flight Sim Ver. 1.7.14.0 patch notes
STABILITY ISSUES
The title will no longer crash when different input devices/peripherals are disconnected
The title will no longer crash when the TBM 930 package is deleted
INSTALLATION ISSUES
The install process will no longer be blocked after a partial decompression of a package
The install process will no longer be blocked when a local user account includes non-ASCII characters
The install process will no longer be blocked after a failed connection to servers
The install process will no longer display an empty onboarding screen under certain conditions
The title will download a critical missing/deleted package to access the main menu even if the save data preference is set to offline (when an internet connection is available)
CONTENT MANAGER
The title will no longer automatically download packages that have been deleted through the content manager
The content manager will no longer get stuck in an infinite loading state when checked offline
The Creator name of the packages should now be properly updated
SIMCONNECT
Significant FPS drop when using Simconnect should no longer affect the experience
OPTIMIZATION
The performance of the title has been improved when the Display name plate option is set to active
MARKETPLACE
The correct currency is now properly updated in the marketplace