Microsoft patents Xbox braille controller
Firm could be planning device for visually impaired players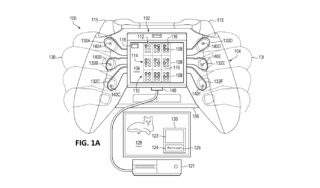 The World Intellectual Property Office has published a Microsoft patent for an Xbox pad featuring braille input and output.
As spotted by LetsGoDigital, the patent describes a braille accessory consisting of six paddles and a display, that could be part of the controller itself or a removeable add-on.
The pad would convert text or audio into braille output and would also be capable of converting voice commands to braille input. It would be compatible with consoles, PC and mobile devices.
"Some of the greatest game improvements have occurred in the use of complex graphics," the patent reads.
"Games employing these complex graphics are challenging to use for visually-impaired or blind users since the accompanied audible feedback may only describe the game's complex graphics in a limited manner through the use of screen readers.
"In addition, when a game is moving quickly, such as in a fighting game, the output from a screen reader may lag gameplay," it continues.
"Although the gaming industry has made some progress to improving a game's general accessibility, a need remains for improved game controllers and accessories that address the very specialised manner in which visually impaired or blind users interact with games."
Microsoft Technology Licensing applied for the patent in October 2018, one month after the company launched the Xbox Adaptive Controller, which was designed to make gaming more accessible for those with limited mobility.