Microsoft has opened testing for cloud gaming on Xbox consoles
Some Xbox Insiders can try it out now ahead of this holiday's launch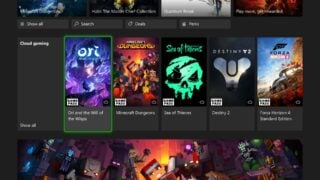 Microsoft has started publicly testing Xbox Cloud Gaming on consoles.
The feature, which will eventually enable Xbox One users to play "many" Xbox Series X/S exclusive games like Microsoft Flight Simulator, is now available to test for "a random subset of Alpha Skip-Ahead and Alpha [Xbox] Insiders".
It allows players to access Xbox Game Pass titles without downloading them and jump into multiplayer sessions with friends for games that aren't installed on the physical console.
Xbox Cloud Gaming coming to Xbox Series X|S and Xbox One
A full list of supported games can be found by navigating to My Games & Apps>Full Library>Xbox Game Pass and setting the filter to 'Cloud gaming'.
When browsing Xbox Game Pass on console, titles which support the feature will also include a cloud icon (pictured, top).
Microsoft has listed several known issues currently affecting cloud gaming on console.
Among them, users may be unable to launch base games that are part of a bundle (such as Halo: The Master Chief Collection), while in-game purchases are not supported, meaning players need to make purchases via the Store directly on console or the Xbox website.
Microsoft, which already offers cloud gaming on mobile devices and PC, said last month that it will launch console game streaming this holiday.
And in June, the company said it is planning to bring Xbox Cloud Gaming to internet-connected TVs in a move that will let players access services like Game Pass with no extra hardware required except a controller.
It was announced today that Marvel's Avengers will join Xbox Game Pass on September 30.