Metroid Prime 4 team secures artist behind Halo's Spartans
Retro Studios hires senior modeller responsible for Master Chief, Spartan Locke and more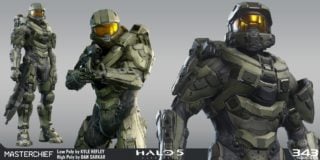 Metroid Prime 4 developer Retro Studios has appointed veteran Halo creative Kyle Hefley as the studio's new lead character artist, VGC understands.
Hefley is a vastly experienced character modeller who has worked on more than 20 titles, including Call of Duty: Black Ops and Sleeping Dogs. Most relevant for Hefley's new role, however, is his nine years at Microsoft's 343 Industries.
Hefley acted as senior character modeller for the Halo series and modelled many or the armoured super soldiers and alien warriors that appeared in Halo 4, Halo 5 and the upcoming Halo Infinite, including Halo 5's Master Chief.
The artist's portfolio, which includes many sci-fi designs reminiscent of the Metroid Prime series, seemingly makes him a good fit for the Nintendo franchise.
Nintendo announced earlier this year that it had decided to "restart development from the beginning" for Metroid Prime 4, with producer Kensuke Tanabe calling in Retro to take over the project from its original, unannounced developer.
Kyle Hefley's Halo Models
Retro has been hiring for Metroid Prime 4 ever since and its jobs page is still advertising for an art director, environment designer and more.
Around half of the full-time developers who worked on Metroid Prime 3 remain at Retro Studios, according to VGC analysis conducted in August. It found that a core team of around 50 people worked full-time on the 2007 Wii shooter and around 27 remained at the Texas-based developer, including four contractors made permanent.
Crucially, five of Metroid Prime 3's 11 designers were still at Retro and potentially working on the upcoming Metroid Prime 4.
However, from the original Metroid Prime – which released almost two decades ago – less than 10 of the 40-plus team members remained at Retro and virtually all of the lead creators had moved on.
Related Products
Other Products
Some external links on this page are affiliate links, if you click on our affiliate links and make a purchase we might receive a commission.