Metroid Dread now has a demo on the Switch eShop
Players who haven't bought it yet can try it out first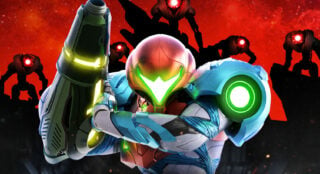 Nintendo has released a demo for Metroid Dread.
The demo can be found on the Nintendo eShop, and provides a sample of the game to players who haven't bought it yet.
The demo is available in all regions, with Nintendo's European, North American and Japanese official Twitter accounts sharing the news.
"Even the galaxy's greatest bounty hunter enjoys the spooky season," read a Nintendo of Europe tweet.
"No trick though, here's a pre-Halloween treat: a demo of Metroid Dread is available now! Download it from Nintendo Switch eShop today."
Metroid Dread, the series' first mainline 2D instalment in nearly 20 years, was released on Switch on October 8, and initial sales have been positive.
In Japan, it outsold nearly every other instalment in the region in its opening few days alone.
According to website Game Data Library, which collates Japanese sales data since 1995, Dread smashed the first-week sales record for every instalment released during this period (data for the first three Metroid games is not included).
The data also suggests that in just its first three days, Dread had already outsold the lifetime sales of nearly every Metroid game in Japan, excluding Fusion (2003), Hunters (2006) and the original Metroid (data for Super Metroid and Metroid II isn't available).
Meanwhile, according to GfK data, Dread enjoyed the series' biggest ever launch in the UK. While boxed copies were slightly short of the biggest launch in franchise history (by less than 1,000 copies), digital sales, which are not accounted for, will likely have pushed this number far beyond the previous record.
"The best thing about Metroid Dread is how it simultaneously feels staunchly loyal to the series' traditions, but also a meaningful upgrade on what came before," according to VGC's 5-star review of the game.
"With that, it's both a fine conclusion to one of gaming's most beloved sagas, and a glimpse at how it could yet thrive under the guidance of a studio that's proved itself as a worthy custodian."
Related Products
Some external links on this page are affiliate links, if you click on our affiliate links and make a purchase we might receive a commission.