Metal: Hellsinger DLC adds new track from Lacuna Coil vocalist Cristina Scabbia
The expansion will also add a new weapon and a song selection feature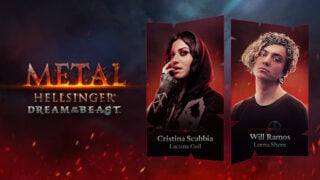 Metal: Hellsinger's first expansion has been announced.
Dream of the Beast will add new tracks performed by Cristina Scabbia (Lacuna Coil) and Will Ramos (Lorna Shore).
The DLC, which will also add "game modifying outfits and additional weapons", will launch on March 29.
Metal: Hellsinger - Serj Tankien trailer
A new song selection feature, which will allow players to match any song to any stage, will also release alongside the DLC later this month.
"Blast through demons in rhythmic bursts of death with The Red Right Hand, the new machine gun," reads a press release for the game. "Don one of three sizzling outfits that provide unique gameplay modifiers."
Cristina Scabbia is known for her time as the lead vocalist of the Italian metal outfit Lacuna Coil who rose to prominence in the mid-2000s. Winner of the 2016 Metal Hammer Award for Best International Band, and the 2018 Metal Hammer Golden Gods Award for Best Live Act, the group has sold over 5 million albums internationally.
Scabbia also served as a judge on the Italian version of The Voice.
Metal: Hellsinger was recently nominated for a BAFTA for Audio Achievement. 
VGC's Metal Hellsinger review called it "an incredibly well-realized concept, packed to bursting with excellent music, unique weapons and a gameplay loop that's instantly addictive. "
"It's a game that we'll keep installed for a long time, even beyond the point of completion, as the chase of higher and higher scores against your mates is so engaging."
VGC sat down with Metal: Hellsinger's director David Goldfarb and Trivium frontman Matt Heafy to chat about the game, and the relationship between video games and metal music.