Metacritic reveals the best 50 games of the decade by review scores
Nintendo and Rockstar titles take the top five spots on the list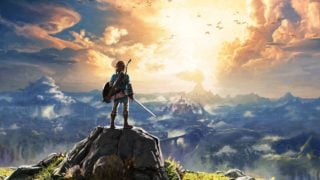 Review aggregation site Metacritic has revealed its top 50 games of the 2010s, according to weighted average scores from its approved critics.
Launched in 1999, Metacritic says it curates reviews from only "the world's most respected critics".
Nintendo and Rockstar games take the top five spots on its games of the decade list, which is republished in full below, with Super Mario Galaxy 2, The Legend of Zelda: Breath of the Wild, Red Dead Redemption 2, Grand Theft Auto V and Super Mario Odyssey all achieving Metascores of 97.
Metacritic revealed the best 15 games of 2019 by review scores in November.
Best 50 games of 2010s by Metacritic score
Super Mario Galaxy 2 (Wii, 2010) – 97
The Legend of Zelda: Breath of the Wild (Switch, 2017) – 97
Red Dead Redemption 2 (PlayStation 4, 2018) – 97
Grand Theft Auto V (PlayStation 4, 2014) – 97
Super Mario Odyssey (Switch, 2017) – 97
Mass Effect 2 (Xbox 360, 2010) – 96
The Elder Scrolls V: Skyrim (Xbox 360, 2011) – 96
The Last of Us (PlayStation 3, 2013) – 95
The Last of Us Remastered (PlayStation 4, 2014) – 95
Red Dead Redemption (Xbox 360, 2010) – 95
Portal 2 (Xbox 360, 2011) – 95
God of War (PlayStation 4, 2018) – 94
Batman: Arkham City (Xbox 360, 2011) – 94
The Legend of Zelda: Ocarina of Time 3D (3DS, 2011) – 94
BioShock Infinite (PC, 2013) – 94
Pac-Man Championship Edition DX (Xbox 360, 2010) – 93
Divinity: Original Sin II (PC, 2017) – 93
Super Mario 3D World (Wii U, 2013) – 93
Starcraft II: Wings of Liberty (PC, 2010) – 93
Persona 4 Golden (PlayStation Vita, 2012) – 93
Persona 5 (PlayStation 4, 2017) – 93
Mass Effect 3 (Xbox 360, 2012) – 93
Metal Gear Solid V: The Phantom Pain (PlayStation 4, 2015) – 93
The Legend of Zelda: Skyward Sword (Wii, 2011) – 93
Rock Band 3 (Xbox 360, 2010) – 93
Uncharted 4: A Thief's End (PlayStation 4, 2016) – 93
Super Smash Bros. Ultimate (Switch, 2018) – 93
Inside (Xbox One, 2016) – 93
Forza Horizon 4 (Xbox One, 2018) – 92
God of War III (PlayStation 3, 2010) – 92
Uncharted 3: Drake's Deception (PlayStation 3, 2011) – 92
Bloodborne (PlayStation 4, 2015) – 92
Celeste (Switch, 2018) – 92
Super Street Fighter IV (PlayStation 3, 2010) – 92
The Witcher 3: Wild Hunt (PlayStation 4, 2015) – 92
Undertale (PC, 2015) – 92
Fire Emblem: Awakening (3DS, 2013) – 92
Divinity: Original Sin II – Definitive Edition (PlayStation 4, 2018) – 92
Super Smash Bros. for Wii U (Wii U, 2014) – 92
Journey (PlayStation 3, 2012) – 92
Xenoblade Chronicles (Wii, 2012) – 92
Mario Kart 8 Deluxe (Switch, 2017) – 92
The ICO & Shadow of the Colossus Collection (PlayStation 3, 2011) – 92
The Witcher 3: Wild Hunt – Blood and Wine (PC, 2016) – 92
LittleBigPlanet 2 (PlayStation 3, 2011) – 91
Overwatch (PC, 2016) – 91
Bayonetta 2 (Wii U, 2014) – 91
Forza Horizon 3 (Xbox One, 2016) – 91
Final Fantasy XIV: Shadowbringers (PC, 2019) – 91
Dragon Quest XI S: Echoes of an Elusive Age – Definitive Edition (Switch, 2019) – 91