Meta Quest 3 launches in October
The next-gen virtual and mixed reality headset starts at $500 / £480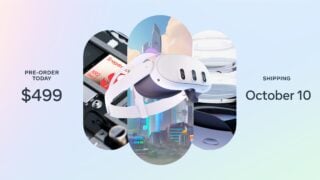 Meta has announced that Quest 3, its next-generation virtual and mixed reality headset, will launch on October 10.
Prices start at $499.99 / £479.99 for a 128GB headset, with a 512GB model priced at $649.99 / £619.99.
Both models will come with a free copy of action RPG sequel Asgard's Wrath 2 when it's released in December, as part of a promotion running until January 27, 2024.
The 512GB model will also come with a six-month Meta Quest+ trial. Normally priced at $7.99 per month or $59.99 annually, the subscription service gives subscribers two VR titles on the first day of every month.
During a Meta Connect 2023 presentation on Wednesday, Mark Zuckerberg announced that a version of Roblox optimised for VR is launching for Quest headsets today.
Meta's CEO also said Xbox Cloud Gaming is coming to Meta Quest 3 in December.
Meta said in June that Quest 3 is the first headset to feature a next-gen Snapdragon chipset developed in collaboration with Qualcomm, which delivers over twice the graphical performance as the GPU in Quest 2.
The headset features a 40% slimmer optic profile than Quest 2 and redesigned Touch Plus controllers "with a more streamlined and ergonomic form factor".
Meta also said "hand tracking will be supported out of the box, so you can explore without controllers, thanks to Direct Touch that lets you use just your hands to interact with virtual objects".
Quest 3 will be compatible with Quest 2's library of over 500 VR games, apps and experiences.