MechWarrior 5: Mercenaries delayed and now an Epic store exclusive
Refunds available to Steam pre-order customers until September 1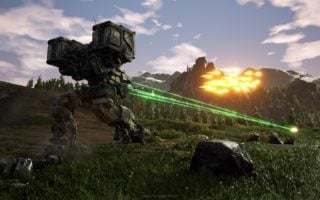 Piranha Games has delayed the release of Mechwarrior 5: Mercenaries and announced that the title will now be exclusive to the Epic Games store for a year.
Previously scheduled to release in September on Steam, it will now arrive on December 10, following a closed beta in November.
"Partnering with Epic gave us the ability to delay our release to early December so that we could make the quality of game we desired as well as the financial footing to make sure MechWarrior 5: Mercenaries could be properly localized with a significant marketing effort," Piranha Games explained.
"We also feel very strongly about discoverability and believe that MechWarrior 5: Mercenaries has a greater chance of market success on the Epic Games store."
Customers can obtain refunds from pre-orders of any tier until September 1. Anyone who does so will get to keep the bonus MechWarrior Online content included in their pre-purchase, but they'll lose the MechWarrior 5: Mercenaries pre-order DLC items and won't be able participate in the closed beta.
Mechwarrior 5: Mercenaries is the latest in a growing list of PC games to shun Steam in favour of Epic Games store exclusivity.
The Epic Games store offers developers an 88 per cent share of the revenue their games bring in, compared to the 70/30 per cent revenue split offered on Steam, as well as digital platforms operated by the likes of Microsoft, Sony and Apple.
Epic CEO Tim Sweeney recently defended the company's strategy of signing PC exclusives for its digital storefront, claiming it's the only way to challenge Steam.