Mass Effect Legendary Edition's first patch fixes Xbox wireless headset crashes
The update also makes graphical improvements and fixes some glitched trophies and achievements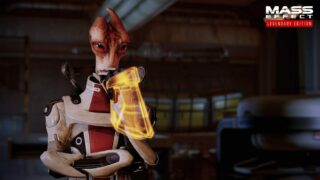 The first post-launch post for Mass Effect: Legendary Edition fixes a bug that crashes the game on Xbox Series X version if players use a wireless headset.
If a wireless headset was connected while playing on Series X, the launcher screen where players choose which game to play would crash or freeze. The patch fixes this, but EA warns that enabling or disabling a headset on the launcher will still cause a crash, and that it's working on a fix.
Other features in the patch include improved visual detail, and fixes to some kill-related trophies and achievements in Mass Effect 1 and 3.
Legendary Edition was released last week and features enhanced visuals, gameplay improvements, over 40 pieces of DLC and a modernised version of the original games.
All three single-player games (multiplayer is not included) feature remastered character models, "tens of thousands" of improved textures, new shaders and VFX, updated lighting and improved shadows, plus volumetrics and depth-of-field.
The game's PC version has enjoyed a strong debut on Steam, reaching a concurrent player count of 59,650.
The figure means Legendary Edition now holds the record for the most concurrent players of any BioWare game on Steam. For publisher EA, only free-to-play shooter Apex Legends (330,879) has achieved a higher number of concurrent players.
---
Mass Effect Legendary Edition – May 17 update
General
Fixed the main issue where the launcher would crash or become unresponsive on Xbox Series X when using a wireless headset

Known issue: This can still happen if you enable/disable a headset in the launcher. A future fix will resolve this issue.

Improved iris shaders for better interaction with light and ambient occlusion
Minor calibrations, fixes, and stability improvements
Mass Effect
Improved terrain textures
Fixed an issue where kills for achievements/trophies weren't tracking correctly
Mass Effect & Mass Effect 2
Resolved an issue where the character code would sometimes not display in the squad menu
Improvements to pre-rendered cutscenes to reduce occasional artifacts
Mass Effect 2
Improved lighting and shadows in some cinematics

Minor visual, rendering, and VFX improvements on some levels

Resolved minor text issues with achievements.
Mass Effect 3
Fixed an issue where kills for achievements/trophies weren't tracking correctly