Mass Effect: Legendary Edition will require 'up to 100GB of storage'
US version will be 20GB smaller than Europe edition, it's claimed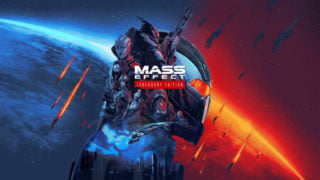 Mass Effect: Legendary Edition will reportedly require up to 100GB of storage space on PlayStation consoles when it releases this month.
According to the PlayStation Game Size Twitter, the US version of the three-game collection will require storage space of a round 80GB, while the European version comes in at 101GB, presumably due to the number of languages included.
These figures include a significant day one patch planned for the game, which will require an 11GB download and introduce performance and graphical improvements.
As noted by PS Game Size, the original Mass Effect games were around 23GB in size combined.
Mass Effect Legendary Edition supports up to 120fps on Xbox Series X, up to 240fps on PC, and up to 60fps on all other platforms, Electronic Arts recently confirmed.
The three-game remaster collection, which is set to release for PS4, Xbox One and PC on May 14, will be "forward compatible" with Xbox Series X/S and PS5.
Console players can toggle between Favor Quality and Favor Framerate gameplay modes at any time on all platforms.
The PC versions also supports refresh rates up to 240Hz and players can fine tune several options to find the optimal balance of graphics and performance.
Legendary Edition will feature enhanced visuals, gameplay improvements, over 40 pieces of DLC and a modernised version of the original game.
All three single-player games (multiplayer is not included) will feature remastered character models, "tens of thousands" of improved textures, new shaders and VFX, updated lighting and improved shadows, plus volumetrics and depth-of-field, it said.