Mass Effect Legendary Edition supports 120fps on Xbox Series X, but not PS5
Performance details for all platforms revealed ahead of the game's mid-May release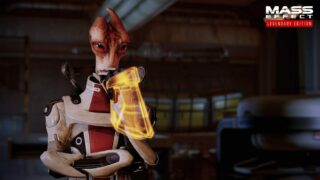 Mass Effect: Legendary Edition supports 120fps on Xbox Series X, but not on PlayStation 5.
Publisher Electronic Arts confirmed the performance difference as part of a wider breakdown of the expected framerate targets and output resolution for all versions of the upcoming title.
The three-game remaster collection, which is set to release for PS4, Xbox One and PC on May 14, will be "forward compatible" with Xbox Series X/S and PS5.
Mass Effect Legendary Edition supports up to 120fps on Xbox Series X, up to 240fps on PC, and up to 60fps on all other platforms.
Console players can toggle between Favor Quality and Favor Framerate gameplay modes at any time on all platforms.
The PC versions also supports refresh rates up to 240Hz and players can fine tune several options to find the optimal balance of graphics and performance.

This is the latest example of a last-gen multiplatform game receiving better next-gen optimisation on Xbox Series X than on PS5, likely due to restrictions around how Sony's console handles backwards compatibility updates.
Enabling next-gen performance features such as 120fps reportedly requires a full native port on PS5, while Microsoft allows such features to be added via a backwards compatibility patch.
Since both next-gen consoles launched, a number of games including Cyberpunk 2077, Star Wars: Squadrons, Call of Duty: Warzone and Rocket League have received performance updates for those playing on Xbox Series X, but not PS5.
In January, EA also released a next-gen optimisation update for Star Wars Jedi: Fallen Order. Although this update improved the PS5 version too, its improvements were locked to 1440p postprocessing at 60fps. The Xbox Series X version, meanwhile, gave players the choice of two modes, performance (60fps and dynamic resolution up to 1440p) or normal (4K postprocessing).