Masahiro Sakurai says next Smash Bros. 'will need some work to figure out'
The series director has previously suggested he might not lead another game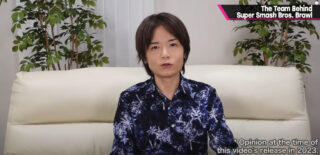 Super Smash Bros. director Masahiro Sakurai has discussed the future of Nintendo's fighting game series in a new video.
Since completing Smash Bros. Ultimate's extensive DLC run last year, Sakurai has been running his new YouTube channel in which he shares game design tips, and claimed that he's "semi-retired" from game development.
With the latest Smash Bros. having sold over 31 million units, the series is almost certainly set to continue, but Sakurai has previously said he's unsure if he'll work on another himself.
In his latest YouTube video published on Friday, Sakura further discusses the future of Smash Bros, in addition to the origin stories of Smash Bros. Brawl – the first entry in which he lead development as an external freelancer, outside of Nintendo.
Sakurai reiterated previous statements that he does not believe the series could continue without his input. Regardless, he said that it was "safe to assume" there would be another game and said Nintendo would need to "figure out" how to create it.
"For an ongoing game series, not using the original development studio and instead assembling a new team around a freelance director is an extremely rare occurrence," he said of Wii's Smash Bros. Brawl.
"The question now is, what happens next time? I mean whatever comes after Smash Bros. Ultimate. One option would be to separate the series from the original creator. But for now, at least, I can't really imagine a Smash Bros. title without me."
He added: "You might think that's a natural stance for someone in my role, but I say so speaking objectively. I feel the same way President Iwata did when we formed the team for Smash Bros. Brawl. At present, we don't have someone who can simply take the reins…
"Smash Bros. is a massive, important title for Nintendo, so it's fair to assume there will be another one at some point, but it's going to take some work to figure out exactly how to make that happen. For my part, I'd like to keep working with Nintendo however I'm able."
The Smash Bros. director has discussed his punishing work-life balance many times in the past, including claims that he would use an IV drip and "go to work like normal" during the development of Ultimate, to avoid taking time off.
In 2020, the designer said in a column that he passed out during a trip to the gym because he was tired and dehydrated.
During a 2019 interview with Nintendo Dream, Sakurai claimed that he had, however, taken some action to improve his working conditions during the development of Ultimate.
"I made some changes from what I used to do compared to now. For example, as a principle, I always left the office by 10 PM, no matter what. Many companies are discouraging extreme overtime these days, too," he said.
Related Products
Other Products
Some external links on this page are affiliate links, if you click on our affiliate links and make a purchase we might receive a commission.