Masahiro Sakurai is teasing a collaboration with an unknown YouTube channel
The Smash Bros director says he'll be playing other games with "a well-known YouTube channel"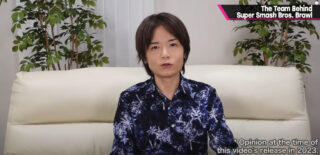 Super Smash Bros director Masahiro Sakurai has teased an upcoming video project with another YouTube channel.
Since completing Smash Bros. Ultimate's extensive DLC run last year, Sakurai has been running his new YouTube channel in which he shares game design tips.
The channel, which is named Masahiro Sakurai on Creating Games, mostly focuses on the games Sakurai himself worked on, with other games cited as examples.
However, although further details have yet to be confirmed, it appears that Sakurai will soon be teaming up with another popular YouTube channel to focus on games other than those he worked on.
"Since my YouTube debut, many of you have expressed interest in watching me play other games," Sakurai tweeted.
"Well, you'll soon have your chance, because Masahiro Sakurai on Creating Games is planning a special crossover with another well-known YouTube channel! Stay tuned for more details."
In an interview with Den Famicomo Gamer last December, Sakurai said he was "semi-retired" from game development.
The game designer previously hinted that he could retire in one of his final Famitsu columns published last summer.
Sakurai stated in the column that, following the completion of Super Smash Bros. Ultimate's final DLC character, he would consider his life after game development, and that the idea of early retirement could appeal to him.
With the latest Smash Bros. having sold over 31 million units, the series is almost certainly set to continue, but Sakurai has previously said he's unsure if he'll work on another himself.
In one of his YouTube videos posted in July, Sakurai reiterated previous statements that he does not believe the series could continue without his input. Regardless, he said that it was "safe to assume" there would be another game and said Nintendo would need to "figure out" how to create it.