Marvel's Avengers' Kate Bishop DLC is launching in December
Followed by Clint Barton's Hawkeye story DLC in early 2021
Square Enix will release Marvel's Avengers' first new playable hero, Kate Bishop, on December 8.
The skilled archer and gymnast was originally scheduled to arrive in October, but was delayed following a troubled launch for the Crystal Dynamics-developed title.
Kate Bishop – Taking AIM is the next chapter in the game's ongoing Avengers Initiative story. It will introduce a new villain, the Super Adaptoid, whose skills and weapons mimic the Avengers' attacks.
Picking up shortly after the conclusion of Marvel's Avengers' Reassemble campaign, Taking AIM is the first part of the two Hawkeyes' story arc, which will conclude with Clint Barton DLC in early 2021.
While Square Enix hasn't shared actual sales numbers for Avengers, its latest earnings results suggest the game has performed below expectations.
According to Japan-based analyst David Gibson, the publisher's most recent quarterly earnings figures suggest Avengers cost Square Enix almost $190 million to produce and market but only sold around three million copies.
In the US, Avengers appeared to make a strong start, where it was September's best-selling game. However, by October it was reported that matchmaking problems were being exacerbated by a declining player count, with the PC version of the game dipping below 1,000 concurrent users.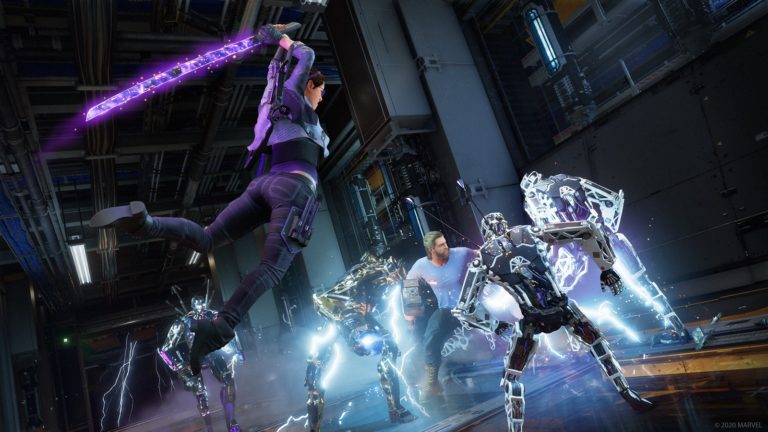 Crystal Dynamics later said it was confident players would return to Marvel's Avengers as it continued to plan post-release content and improvements for the superhero game.
However, the Kate Bishop character DLC, as well as next-gen versions of the title, were subsequently delayed as the studio continued to work on improving the base game.