Marvel's Avengers drives loss at Square Enix as it's suggested the game 'could have cost $190m'
'HD Games' segment reports $62m loss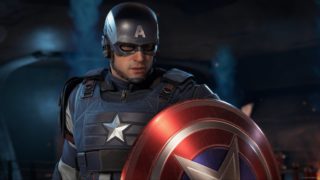 Square Enix's HD Games division reported a $62m (£47m) loss during the quarter it released Marvel's Avengers, despite the overall company reporting growth for the first half of the fiscal year.
While Square Enix did not share actual sales numbers for Avengers, the latest earnings figures suggest it's performed below expectations.
In its latest results for the three months ended September 30 – the period in which Avengers released – the Japanese publisher reported net sales of ¥23.7bn, down 30 percent from the previous quarter (¥34.1bn) when Final Fantasy VII Remake released on just a single platform.
Operating income took an even bigger hit from the previous quarter, down from ¥12.5bn profit to a ¥6.5bn loss. According to Japan-based analyst David Gibson, the figures suggest that Avengers cost Square Enix almost $190m to produce and market but only sold around 3 million units.
"It looks like the total cost of the game is closer to $170m-$190m given they only expense 70% of cost in the [quarter] plus marketing costs," he said. "Why someone didn't say stop post the multiplayer beta will remain a mystery. Square are adamant they can make a recovery".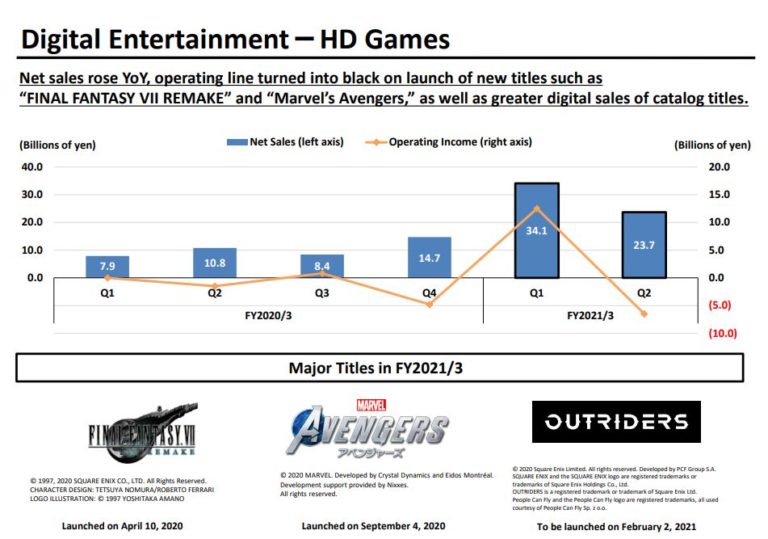 Taking into account the first six months ended September 30, Square Enix's revenues were up 43% year-over-year to ¥172bn ($1.67bn) and profits were up 46% to ¥16bn ($155m). This was driven by Final Fantasy VII Remake, as well as games for mobile devices and PC browsers.
In the US, Avengers appeared to make a strong start, where it was September's best-selling game. However, by October it was reported that matchmaking problems in Avengers were being exacerbated by a declining player count, with the PC version dipping below 1,000 concurrent players.
Even on console, finding other players to group up with has reportedly become more difficult since the game launched in September.
Developer Crystal Dynamics later said it was confident players would return to Marvel's Avengers as it continued to plan post-release content and improvements for the superhero game.
In a statement published last month, Crystal Dynamics studio head Scott Amos said the developer was listening to the concerns and suggestions of its playerbase, and insisted he was confident that its audience numbers would grow.
Amos listed a number of features planned to be added to Avengers, including new mission types, a new Outpost, and new characters including Kate Bishop and Clint Barton.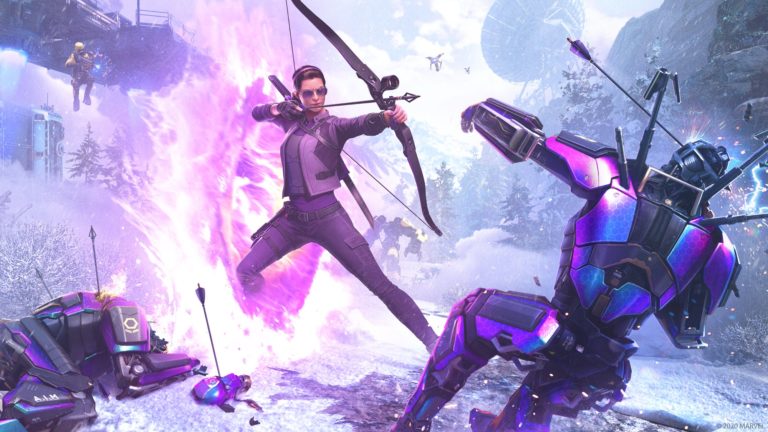 However, the character DLC, as well as next-gen versions of the game, were later delayed by the developer, as it continued to improve the base game.
"Marvel's Avengers' launch was not without turbulence, and we recognize that a number of issues detracted from your enjoyment of the game," said Amos. "This does not align with Crystal Dynamics' value of craftsmanship, and for that we sincerely apologize.
"Over the past weeks, our team around the world has been heads down fixing bugs and tuning key gameplay systems guided in part by your feedback.
"Since launch, we've released rapid updates to address these bugs, improve game stability, and refine our matchmaking system. While our work is never done, these fixes and additions have made improvements to the overall player experience."
Related Products
Other Products
Some external links on this page are affiliate links, if you click on our affiliate links and make a purchase we might receive a commission.