Mark Wahlberg offers first look at his Sully appearance in the Uncharted movie
Wahlberg is set to star alongside Tom Holland in the video game adaptation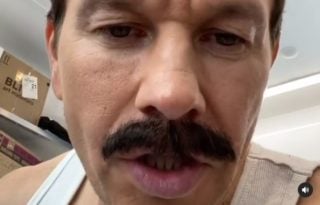 Actor Mark Wahlberg has seemingly offered fans a glimpse of how he'll appear as Sully in the upcoming Uncharted movie.
In an Instagram video published on Saturday, Wahlberg sports a moustache much like that of the Uncharted character, who is mentor to Tom Holland's Nathan Drake.
The video is the latest in a week of teasers related to the Uncharted movie, including the first image of Holland as Nathan Drake and a look at game actor Nolan North visiting the set.
Directed by Ruben Fleischer (Venom, Zombieland), the Uncharted film is scheduled for release on July 16, 2021.
View this post on Instagram
Rather than following the plot of the games, which have sold over 41 million units, the movie will tell a prequel story featuring Nathan Drake as a young treasure hunter learning from his mentor Victor Sullivan (Mark Wahlberg).
The movie's cast also reportedly includes Antonio Banderas, Sophia Ali and Tati Gabrielle.
Holland also previously chatted with Naughty Dog vice president and Uncharted 4 co-director Neil Druckmann, who said the film set "looked insane".
The Uncharted movie is the first feature film from PlayStation Productions, a studio formed by Sony Interactive Entertainment to adapt its original game properties for film and television.