Mario Maker 2's final update adds a world builder and 9 new power-ups
Free content update will release on April 22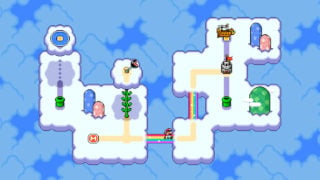 Super Mario Maker 2's final content update will release tomorrow, April 22.
The free update adds a new World Maker Mode, which allows users to tie together multiple player-created courses on a world map. The look of the world can then be customised.
Up to eight worlds containing a total of up to 40 courses can be combined, creating a mini Super Mario game that can be shared with others, says Nintendo.
The April 22 update also adds nine new power-ups to Mario Maker 2, including the SMB2 Mushroom, which transforms Mario and friends into their look from Super Mario Bros. 2 and allows them to pick up and throw items and enemies.
Additional power-ups include the Frog Suit from Super Mario Bros. 3, the Power Balloon from Super Mario World, the Super Acorn from New Super Mario Bros. U and the Boomerang Flower from Super Mario 3D World.
Finally, new enemies such as the Koopalings, key-chasing Phanto, and the wind-up Mechakoopas have been added to the game.
The latest update follows the release of Super Mario Maker 2's version 2.0 update, which released in December with a host of new features, including a playable Link character.
The Legend of Zelda hero has several of his moves from the Nintendo adventure series, including the Master Sword, Bow and Bombs, and is available only in the 8-bit Super Mario Bros. style.
Version 2.0 also added a new Ninji Speedruns mode, which has players racing for the fastest time on courses created by Nintendo.
Super Mario Maker 2 has sold 3.93 million copies since it released in June, according to Nintendo.
Classic Mario games are set to be re-released for Nintendo Switch later this year as part of Super Mario Bros.' 35th anniversary.