Mario Maker 2 'won't allow online play with friends'
Online play limited to random players, company rep claims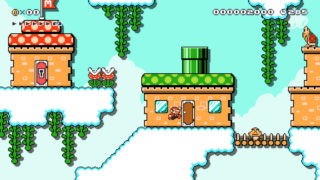 Super Mario Maker 2 won't support online play with friends, a Nintendo representative has claimed.
In a statement sent to GameXplain, the company said players will only be able to join random players in online game sessions. Up to four players can play together on one Nintendo Switch system or via local wireless play.
"As the game is now, you cannot create friend lobbies online, you can only play online with randoms," a Nintendo representative said.
"You can still get friends together and play with local play and you're free to play with four players on one Nintendo Switch system. You can also still challenge your friends to your creations and take on their designs through course IDs and having them follow your Maker Profile."
Nintendo gave no explanation for the decision not to include online play with friends, although it's claimed the company wants to avoid 'compromising' the game's global leaderboards.
In its latest Nintendo Direct, Nintendo confirmed that Mario Maker 2 will feature a host of online and multiplayer options, including the ability for up to four players to compete in player-built courses locally or online.
It also confirmed the ability to locally create courses in co-op mode with another player, a selection of online course sharing options and a significant amount of new tools, themes and extras.
The sequel also includes a 100-level Story Mode, which you can read more about in VGC's recent Mario Maker 2 feature.
Super Mario Maker 2 has a release date of Friday June 28.