Mario Kart Tour's next event is the Winter Tour
DK Pass course from Mario Kart DS to be added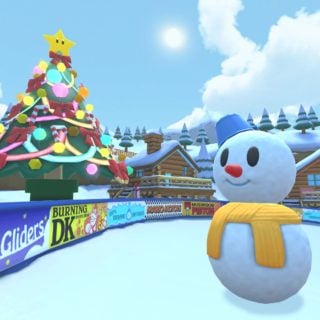 Mario Kart Tour's next event will be the Winter tour, developer DeNA has announced.
The Winter tour starts on November 19 at 10pm PT (6am BT) and will add a number of themed unlockables, plus the DK Pass track from Mario Kart DS.
[UPDATE: Mario Kart Tour's Winter tour will add Santa Mario, DK Pass and more]
The mobile racer's tours are fortnightly events which add a new course and unlockable content, often based on a real world location such as London, Tokyo and Paris.
The game's first tour event was based on New York City, with players able to unlock Pauline from Super Mario Odyssey and a New York-themed kart and New York-themed glider.
Mario Kart Tour's Tokyo event went live on October 9, adding 14 new characters, more than five new courses and a significant number of new karts and gliders.
The most recent Mario Kart Tour event was the Paris Tour, which added a Shy Guy (Pastry Chef) and Peach (Vacation).
Mario Kart Tour launched on September 25 and broke records with 90 million downloads in its first week. It went on to clear 123 million downloads in its first month, making it by far Nintendo's most successful mobile title in terms of first month installs.
DeNA will hold a beta test for "real-time" Mario Kart Tour multiplayer in December, the game's developer has announced. The beta test will be limited to subscribers of the game's paid Gold Pass.