Mario Kart Tour's next event is the Valentine's Tour
New driver teased for event commencing on January 28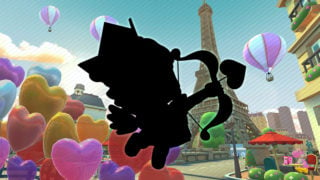 Mario Kart Tour's next event will be the Valentine's Tour, developer DeNA has announced.
It starts on January 28 at 10pm PT (Jan 29 at 1am ET / 6am UK) and will introduce at least one new driver to the game, who's teased in the image above.
The mobile racer's tours are fortnightly events which add new content, with tracks sometimes based on a real-world location such as London, Tokyo or Paris.
The ongoing Ice Tour launched on January 14. It includes Mario Kart 64 track Frappe Snowland, the Vanilla Lake SNES course, Penguin Luigi, Wintertime Peach and Ice Mario drivers, plus several karts and gliders.
DeNA launched the second Mario Kart Tour multiplayer test on Thursday. It will run until approximately 9.59pm PT on January 28 (12.59am ET / 5.59am UK on Jan 29).
While the game's first multiplayer test in December was limited to Gold Pass subscribers, this one is open to all players. It also introduces the ability to race against nearby players using location data, in addition to racing random ones worldwide.
We recently suggested Mario Kart Tour has introduced plenty of new ideas that Nintendo would do well to adopt for Mario Kart 9, including the mobile game's combo system and track variants.