Mario Kart Tour's latest update makes unlocking rare content slightly easier
Pipe gacha mechanic reduced to 50 uses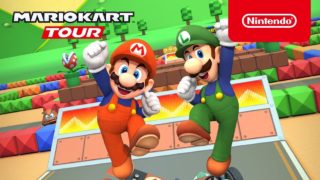 Mario Kart Tour's latest event has increased the chances of unlocking its high-end characters and karts.
The Mario Bros. Tour has reduced the normal 100-launch Pipe down to 50, which means players who use the gacha mechanic with either in-game currency or real money have a slightly higher chance of unlocking rare content.
However, the Pipe's Spotlight items – which are guaranteed to unlock during its lifetime use – contain one high-end character, one super kart and the existing Mario character, instead of the usual three high-end items.
It's not clear if the 50-use Pipe is a permanent change or limited just to the two-week Mario Bros. event.
The Mario Bros. Tour introduces new remixed course types, as well as Classic variants of Mario and Luigi. The Tour will be active until March 11.
Mario Kart Tour has previously been criticised for the structure of its Pipe unlock mechanic.
The Pipe requires Rubies to use. For free users, around 25 Rubies can be obtained by completing cups in each two-week tour, which is enough for five Pipe launches.
Players who subscribe to the game's $4.99 / £4.99 a month Gold Pass are given access to a further 35 Rubies during each tour, or enough for another seven Pipe launches.
That means in order to burn through an entire 100-use Pipe players must both subscribe to Gold Pass and spend more than $150 on additional microtransactions.
Recent analysis suggested that almost half of the characters in Mario Kart Tour were locked behind its Pipe mechanic.
Nintendo president Shuntaro Furukawa recently told investors that Mario Kart Tour earnings were off to a good start.
"In addition to randomised items, we have created opportunities to generate revenue such as the Gold Pass subscription to meet various needs to consumers, allowing them to enjoy the game," he said.
"By including these mechanics and multiplayer functionality, we want to make it an attractive application that will be enjoyed by consumers in the long-term."