Mario Kart Tour will add a landscape mode in its next update
Players will be able to play horizontally as well as in original portrait setup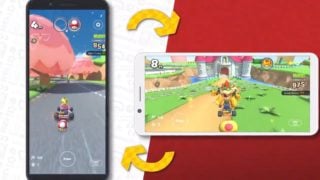 Mario Kart Tour will add a new landscape mode in its next update.
Following the patch, players will be able to play the mobile racer either with their device held horizontally or in the original portrait mode.
Landscape mode will also include a new control layout, Nintendo said.
Nintendo president Shuntaro Furukawa is said to have told Japanese media in May that the company was "not necessarily looking to continue releasing many new applications for the mobile market."
According to Bloomberg, Nintendo is disappointed by the revenues it's achieved so far from titles such as Mario Kart Tour and Fire Emblem Heroes.
In addition, the company is said to be unsatisfied by the limitations of the mobile platform from a game design perspective.
"The company believes its franchises shine brightest when coupled with designed-by-Nintendo controllers and it's never been fully comfortable with the touchscreen-only interface of a phone," Bloomberg reported.
Bloomberg claimed Nintendo had asked its mobile development partners not to force players to spend a lot in games, fearing it could harm its game brands.
So far, over half of Nintendo's mobile revenue has reportedly come from Fire Emblem, with the title's gacha monetisation model proving fruitful, according to Sensor Tower data, with an average revenue-per-download of $41.