Mario Kart Tour to add King Boo and Waluigi characters
Plus Waluigi Pinball (DS) track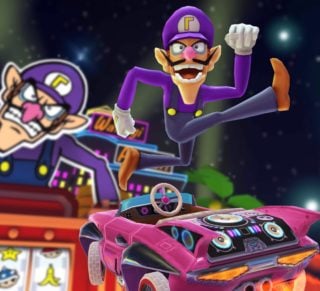 Mario Kart Tour will add King Boo, Waluigi and the Waluigi Pinball (DS) track this week, Nintendo has confirmed.
Mario Kart Tour's Halloween tour will start on October 22 at 11:00pm PT (or 7am Oct 23 in the UK) and add Halloween-themed content including the Luigi's Mansion (DS) course and the Luigi driver. The tour will run for two weeks.
UPDATE: Nintendo has confirmed the Mario Kart Tour Halloween event will add at least six new characters, three new courses and Time Trials.
It's likely the Halloween tour will also add other drivers including Baby Luigi. The recent Tokyo tour added more than ten new characters.
Mario Kart Tour's tours are fortnightly events which add new courses and unlockable content, often based on a real world location such as London, Tokyo and Paris.
The game's first tour event was based on New York City, with players able to unlock Pauline from Super Mario Odyssey and a New York-themed kart and New York-themed glider which will only be available during the two-week event.
Mario Kart Tour's Tokyo event went live on October 9, adding 14 new characters, more than five new courses and a significant number of new karts and gliders.
Mario Kart Tour launched on September 25 and broke records with 90 million downloads in its first week, although the feat was soon surpassed by Call of Duty Mobile, which achieved 100 million week one downloads following its October 1 release.
Mario Kart Tour is expected to introduce online multiplayer in a future update.