Second Mario Kart Tour multiplayer test will be open to everyone
No need to subscribe to paid Gold Pass service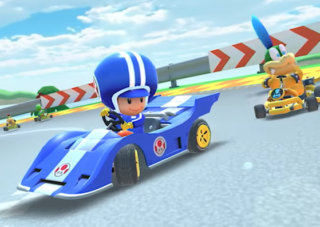 Mario Kart Tour will hold a second multiplayer beta test, developer DeNA has announced.
Unlike the earlier test, which required a subscription to the game's paid Gold Pass service, the next round of multiplayer testing will be open to all players, a game update revealed on Tuesday.
Also unlike the previous test, the next multiplayer beta will allow players to race against opponents "in your immediate vicinity" using location data.
Dates and further details will be posted in the near future, the game's developer said.
Mario Kart Tour launched in September 2019 and reportedly surpassed 123 million downloads in its first month, making it by far Nintendo's most successful mobile game launch in terms of installs.
The game's microtransaction mechanics include a gacha-like system for unlocking content, while the Gold Pass subscription service provides access to more unlockable in-game rewards and 200cc races.
Nintendo president Shuntaro Furukawa recently told investors Mario Kart Tour earnings were off to a good start.
"In addition to randomised items, we have created opportunities to generate revenue such as the Gold Pass subscription to meet various needs to consumers, allowing them to enjoy the game," he said.
"By including these mechanics and multiplayer functionality, we want to make it an attractive application that will be enjoyed by consumers in the long-term."