Mario Kart Tour is removing its gacha mechanic and adding Battle mode
Players will no longer have to try to win characters randomly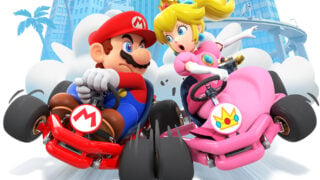 Mario Kart Tour is removing its contentious gacha mechanic and adding a Battle mode in a new update next month.
In a message posted on the game's News screen, it was announced that both changes will be taking place in an update that launches on October 5.
The removal of the gacha pipe will solve one of the biggest complaints aimed at the game since its release three years ago.
Until now, limited-time drivers have often only been obtainable through a Pipe, which costs Rubies to use. Each Pipe contains 100 different drivers, karts and gliders, of which the limited-time drivers are only a handful.
Although the Pipe doesn't have duplicates, meaning players could be guaranteed the limited-time drivers if they used it 100 times, it costs 450 Rubies for 100 attempts, which would require the player to spend up to $236.96 / £203.96.
Nintendo is now removing the Pipe and replacing it with a Spotlight Shop, a rotating storefront where drivers, karts and gliders can be bought outright with Rubies. It also promises that drivers, karts and gliders that were available in the past will return too.
As well as the removal of the gacha system, Nintendo is adding a Battle mode in the same update. It will be available in both single-player and multiplayer modes.
As in other Mario Kart battle modes, each player has balloons attached to their kart, with the aim being to pop opponents' balloons.
Mario Kart Tour officially launched in September 2019. At the time of writing 193 playable characters, 246 karts and 172 gliders have been available at some point in the game, though many of these were only available for a limited time (often via gacha Pipes).
The game has also offered a number of new courses, many of which are set in real-life cities, and some of these are being ported to Mario Kart 8 Deluxe via its Booster Course Pass DLC.
Related Products
Other Products
Some external links on this page are affiliate links, if you click on our affiliate links and make a purchase we might receive a commission.