Mario Kart Tour debuts the exclusive 'Ninja Hideaway' track today
Plus a Ninja Shy Guy racer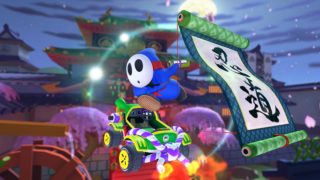 Nintendo's mobile racer Mario Kart Tour has debuted an exclusive track, Ninja Hideaway.
The colourful Japan-themed course coincides with the game's Ninja Tour, which started on Wednesday. In addition to the track, the Ninja Tour adds Shy Guy (Ninja), the Ninja Scroll glider and the Jade Hop Rod kart.
"Race under cover of darkness, illuminated just by the light of an ominous moon. The new Ninja Hideaway course debuts in Mario Kart Tour," developer DeNA said. "Dodge the falling ceiling and keep an eye out for stray ninja… It'll take a keen eye to get 1st place!"
To date, the mobile game has focused on adding existing tracks from console Mario Kart games, as well as variants that incorporate twists such as jump ramps or a reverse route.
Meanwhile, Mario Kart's latest console instalment continues to sell on Nintendo Switch. According to GfK data, Mario Kart 8 Deluxe was the third best-selling physical game in Europe last year, three years after its release on the platform.
Nintendo president Shuntaro Furukawa is said to have told Japanese media in May that the company was "not necessarily looking to continue releasing many new applications for the mobile market."
According to Bloomberg, Nintendo is disappointed by the revenues it's achieved so far from titles such as Mario Kart Tour and Fire Emblem Heroes.
In addition, the company is said to be unsatisfied by the limitations of the mobile platform from a game design perspective.