It looks like Mario Kart 8 Deluxe's DLC tracks could be coming from Mario Kart Tour
Nintendo's mobile title is seemingly the source of at least the first wave of Switch content
Nintendo's free-to-play mobile title Mario Kart Tour could hint at the additional tracks planned for Mario Kart 8 Deluxe's upcoming DLC.
Nintendo announced on Wednesday that Mario Kart 8 Deluxe will be getting a Booster Course Pass, which will add 48 new courses to the game spread out over six separate waves.
According to the announcement, the courses will include remakes of classic tracks from across the Mario Kart series as well as the mobile game, Mario Kart Tour.
However, it appears that nearly all of the courses in the DLC's first wave will be based on those designed for Mario Kart Tour.
The mobile game has regularly added its own redesigned versions of classic tracks since the game was released in 2019, and visual evidence suggests 8 Deluxe's DLC could be using assets from Tour.
The first wave of Mario Kart 8 Deluxe Booster Course tracks set to be introduced on March 18 will consist of:
Paris Promenade (Tour)
Toad Circuit (3DS)
Choco Mountain (N64)
Tokyo Blur (Tour)
Ninja Hideaway (Tour)
Sky Garden (GBA)
Coconut Mall (Wii)
Shroom Ridge (DS)
Of these eight tracks, all but one is featured (or due to be featured) in the free-to-play mobile game.
Three of the DLC first wave's tracks are original Tour creations and the first two retro tracks – Choco Mountain N64 and Toad Circuit 3DS – appear to share virtually identical geometry and similar assets to the mobile game.
Another retro track, Sky Garden GBA, is set to be added to Tour as part of a new content drop starting on February 23, and its promotional image is very similar to that of the Mario Kart 8 DLC version.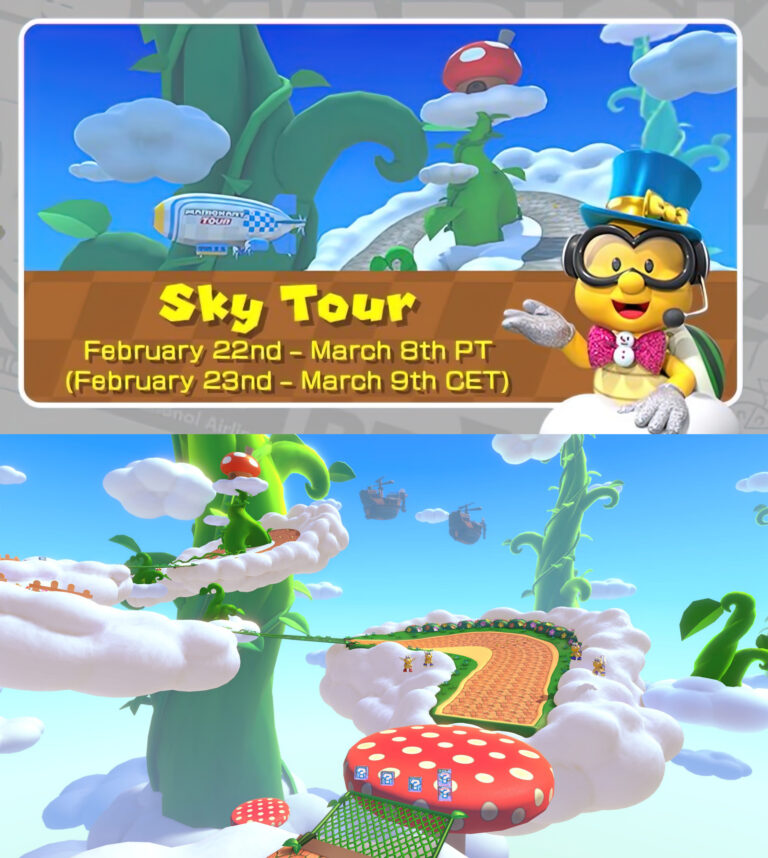 Although the seventh track, Coconut Mall Wii, has yet to feature in Mario Kart Tour, a datamine last year showed that content related to it already exists within the game's files, suggesting that it's likely to be added in the future.
Only the final track from Mario Kart 8 Deluxe's first DLC wave, Shroom Ridge DS, has not featured in Tour and is not yet known to be coming to it. Although again, its geometry looks very evocative of the mobile title.
Finally, it's been noted by fans that the track icons shown in the trailer for Mario Kart 8 Deluxe's first DLC wave feature icons taken directly from Mario Kart Tour. Note how the Sky Garden icon also features a grey track like in the Tour tease above, and not the orange track shown in the 8 Deluxe screenshot: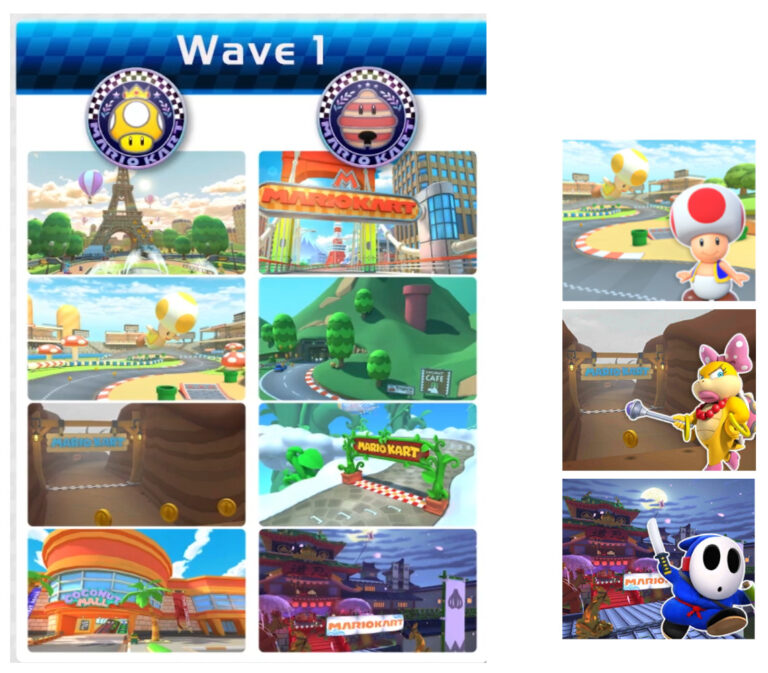 So since there's evidence that nearly all of Mario Kart 8 Deluxe's first DLC tracks could have come from its mobile spin-off, it could be reasonably assumed that a large number of the other 40 tracks set to be released in Waves 2-6 will likely also be taken from Tour.
Classic tracks that have already appeared in Mario Kart Tour and have not yet featured in Mario Kart 8 Deluxe (and therefore could appear in future Waves) include:
Mario Circuit SNES
Donut Plains SNES
Ghost Valley SNES
Choco Island SNES
Vanilla Lake SNES
Koopa Beach SNES
Koopa Troopa Beach N64
Kalimari Desert N64
Frappe Snowland N64
Bowser's Castle GBA
Cheep Cheep Island GBA
Sunset Wilds GBA
Dino Dino Jungle GC
Luigi's Mansion DS
Waluigi Pinball DS
DK Pass DS
Airship Fortress DS
DK Summit DS
Maple Treeway Wii
Daisy Hills 3DS
Cheep Cheep Lagoon 3DS
Shy Guy Bazaar 3DS
Mario Circuit 3DS
Rock Rock Mountain 3DS
Wario Shipyard 3DS
Rosalina's Ice World 3DS
Bowser's Castle 3DS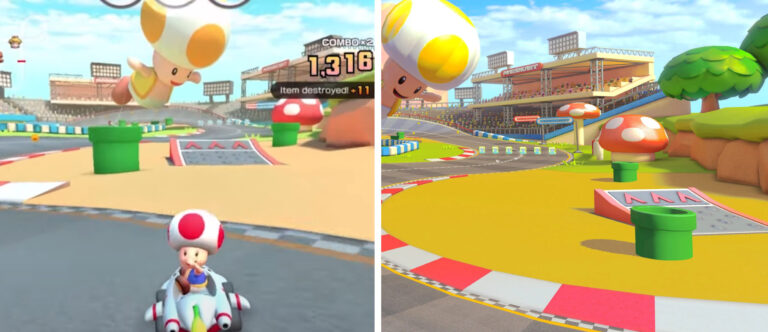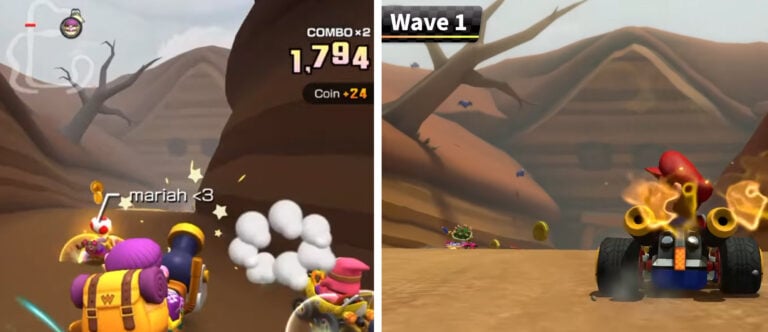 Track remakes in Mario Kart Tour (left) look to share assets with upcoming Mario Kart 8 Deluxe versions (right).
The presence of the Paris, Tokyo and Ninja Hideaway tracks from Mario Kart Tour in the first wave of Mario Kart 8 Deluxe DLC tracks also means future waves could include other Tour tracks.
These include tracks set in other real-world locations like New York, London, Vancouver, LA, Berlin, Sydney, Singapore and the North Pole.
The last mainline entry in Nintendo's racing series, Mario Kart 8, was released for Wii U in 2014.
Mario Kart 8 Deluxe, an enhanced version of the game for Nintendo Switch, was released in April 2017, the month after Nintendo's latest console launched.
To date, Nintendo has never released more than one mainline Mario Kart game on a single console.
The platform holder said in November 2020 that Switch had shipped almost 93 million units and that Mario Kart 8 Deluxe had officially become the franchise's best-selling entry ever with nearly 40 million copies sold.
Related Products
Other Products
Some external links on this page are affiliate links, if you click on our affiliate links and make a purchase we might receive a commission.