Mario Golf Super Rush gets a free update with a new character, course and mode
Toadette and New Donk City have been added to the game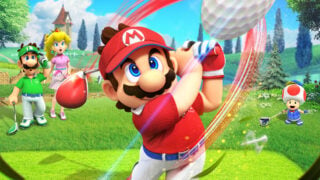 Nintendo has released a free update for Mario Golf: Super Rush which adds a new character, stage and gameplay mode.
Toadette has been added to the roster, bringing the total number of playable characters to 17. She's a control-type golfer and her special shot is called the Super Pickax Stinger.
The new update also adds a seventh course to the game, set in New Donk City. Players will have to rebound the ball off buildings to reach the hole.
Finally, a new Ranked Match mode has been added, which lets players take part in ranked games online for new rewards (such as the ability to choose different colours for Yoshi).
Nintendo also promises that more updates will be released for the game later this year.
Camelot's previous Mario sports game was Mario Tennis Aces on the Switch, which also received regular free updates. By the time the game had received its last update, it character roster had increased from 16 to 30.
In VGC's Mario Golf: Super Rush review, we said the game felt unfinished and would depend on regular updates to keep it entertaining.
"If Camelot can provide the same level of post-game support for its new golf game as it did for its last tennis one, there's potential here for Super Rush to become a truly classic Mario sports title," our review said.
"The groundwork is absolutely here: at its core this is a brilliant take on the sport with hugely satisfying controls that are simple enough to appeal to all skill levels but flexible enough to allow for more elaborate shots should the need arise. With any luck, a steady stream of extra content post-launch could potentially push it to the forefront of the series."