Mario 64's PC port has been modded to run at 60fps
Fans continue to mod unofficial port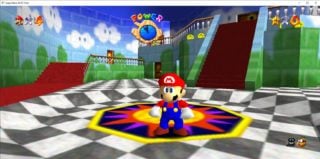 The PC modding community is continuing to add improvements to the Super Mario 64 PC port.
Since the unofficial port's release in May, fans have improved the game's graphics with a new modern Mario model, improved the game's textures via AI upscaling and added an alternative set of textures created by hand.
Mario 64 PC's latest improvement is a 60fps patch, which adjusts all of the game's animations to sync with the higher framerate. You can see it in action via the videos below, which also show the modern Mario and Koopa models and HD texture pack.
Released in May, the unofficial Super Mario 64 PC port was made possible by a 2019 recompilation project which saw fans reverse engineer the game's source code.
The DirectX 12-powered port allows players to run Mario 64 natively on PC, and enables fans to mod individual elements like those seen in recent videos by YouTube user Unreal.
As reported in May, it's also possible to implement ray-tracing in Mario 64 via the third-party Reshade app.
Shortly after its release, Nintendo acted against sites hosting the fan-made Super Mario 64 PC port.
Publication Torrent Freak reported that links to download the executable had begun disappearing from file-hosting sites.
Related Products
Other Products
Some external links on this page are affiliate links, if you click on our affiliate links and make a purchase we might receive a commission.